Why not mix it up on the Halloween buffet this year? Keep the favorite finger foods you know your guests will be dying for, have the so-so recipes do a disappearing act, then sink your teeth into something new—something really sweet. An indulgence of your own design (we'll never tell) that's just as much a frightfully fun feast for the eyes as it is a treat for the palate.
Sound good? Great. Grab your favorite junior culinary craftsperson and dive in. Easy as 1, 2, 3…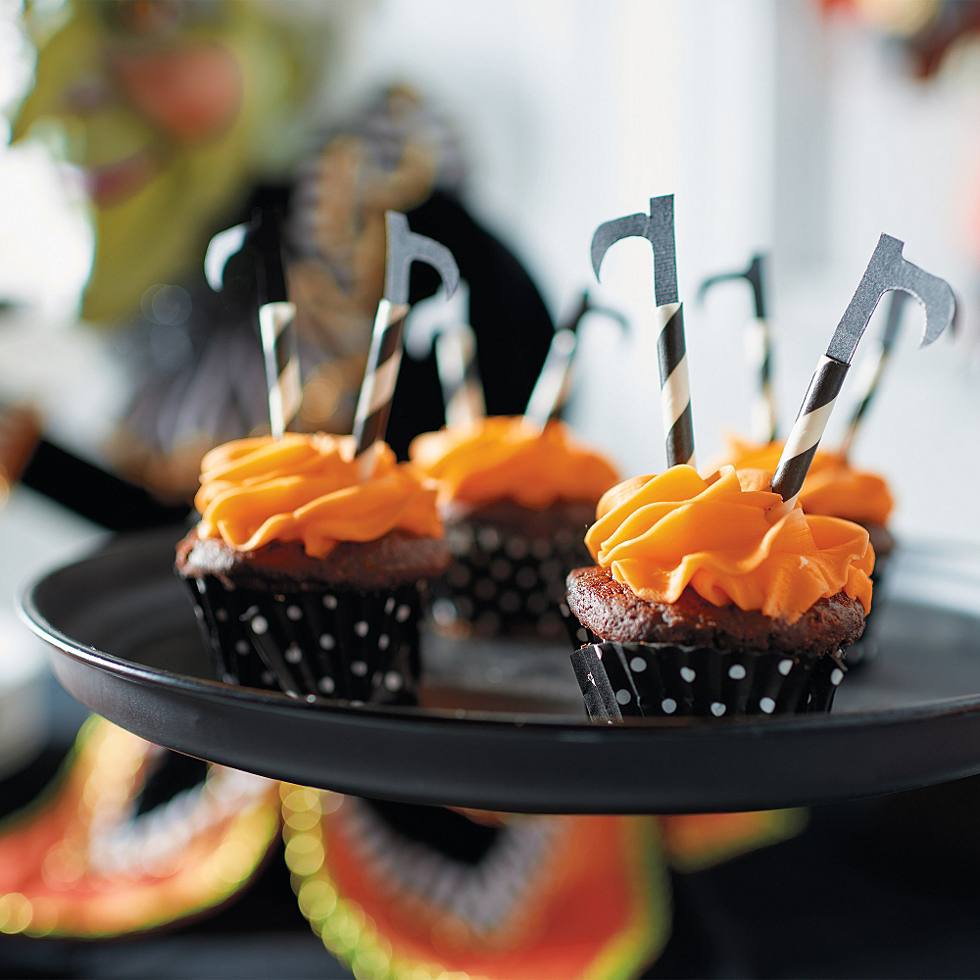 Disappearing Witches Legs Cupcakes
STEP 1: BAKE (THE CAKES)
INGREDIENTS AND SUPPLIES
Favorite box chocolate cake mix (or start from scratch, if you'd prefer; chocolate flavor is key to maintain the Halloween black and orange motif)
Pre-made orange cake icing (again, whip up your own, if you like)
Icing decorating bag, with star tip (some prepared icings arrive in a convenient dispensing tube and include a variety of decorating tips)
INSTRUCTIONS
Bake chocolate cupcakes according to package directions.
Allow to cool, thoroughly.
For ease of decorating, transfer cooled cakes to a clean, dry plate or icing turntable, if you have one.
Put star tip on icing bag and fill bag with icing, or apply star tip to pre-made icing dispensing tube.
Carefully apply icing to each cupcake, in a concentric circle motion, until all tops have been thoroughly covered.
STEP 2: MAKE (THE LEGS)
INGREDIENTS AND SUPPLIES
Box of black-and-white striped drinking straws (approximately 8″ long)
Black construction paper
Scissors (ensure they're kid-safe if you have a little ghost or goblin giving you a hand)
Ruler or small tape measure (optional)
INSTRUCTIONS
Select one straw for each of the total number of cupcakes you've made.
Cut each straw in half and set aside (eyeballing it is precise enough).
Draw a boot shape—think the letter "r"—onto a piece of construction paper (let's say approximately 1″H x ½"–¾"W, with the diameter small enough to slip inside the straw, but still large enough to hold its position—a little trial and error…).
Carefully cut out the boot shape (a little scary, but so worth it!).
Use the cut-out boot as a template to trace the shape onto the paper enough times that each cupcake will have two boots (6 cakes = 12 boots, etc.).
Cut out the remaining tracings.
Place a boot in one end of each cut straw and set aside.
STEP 3: DECORATE
Here's where your work comes together with spooktacular results.
INGREDIENTS AND SUPPLIES
Iced cupcakes
Finished straw legs
Cupcake liners (we used black with white polka dots, but there are all sorts of great options on the web or at your local baking supply store)
INSTRUCTIONS
Place each cupcake in your liner of choice (consider using multiple motifs, for a designer twist).
Carefully insert two of the finished legs into each cupcake—upside down, of course, in a "V" configuration, with boot tips pointed away from one another.
Try to maintain uniformity of leg positioning across all the cupcakes, for a professional presentation.
Display and serve on our out-of-this-world Witch Tabletop Server, or other piece of festive and fun Halloween serving ware.
Dig in—they're devilishly delicious!