GREET YOUR GUESTS WITH FROTHY FUN
Kick off your Halloween party with a round of Witches Brew, our eye-catching "mocktail" that's a real conversation piece. It's non-alcoholic, so even growing goblins can partake.
PART 1: THE DETAILS
We think the Witches Brew looks great in old fashioned drinking jars rimmed with black cocktail rimming sugar.
PREPARE YOUR GLASSES
SUPPLIES
Black cocktail rimming sugar
Corn syrup
Drinking jars
INSTRUCTIONS
Fill a shallow dish with the black rimming sugar.
Coat the rim of each glass with corn syrup.
Dip the top of each glass into the sugar until it's nicely coated with a layer of black sugar.
PREPARE YOUR BROOM SWIZZLE STICKS
SUPPLIES
Solid black cupcake liners (may have a white interior)
Natural cinnamon sticks (desired length depends on the height of your glassware—we suggest that they stick out of the glass by about 4 or 5 inches)
Corn syrup
INSTRUCTIONS
If necessary, score and break cinnamon sticks to the desired length.
Take two cupcake holders, flatten them and layer them so that the black layers are facing outward.
Fold in half.
With a pair of scissors, cut edges into fringes, stopping about 1/2″ from the center.
Wrap around the end of a cinnamon stick; apply corn syrup as glue.
PART 2: THE MOCKTAILS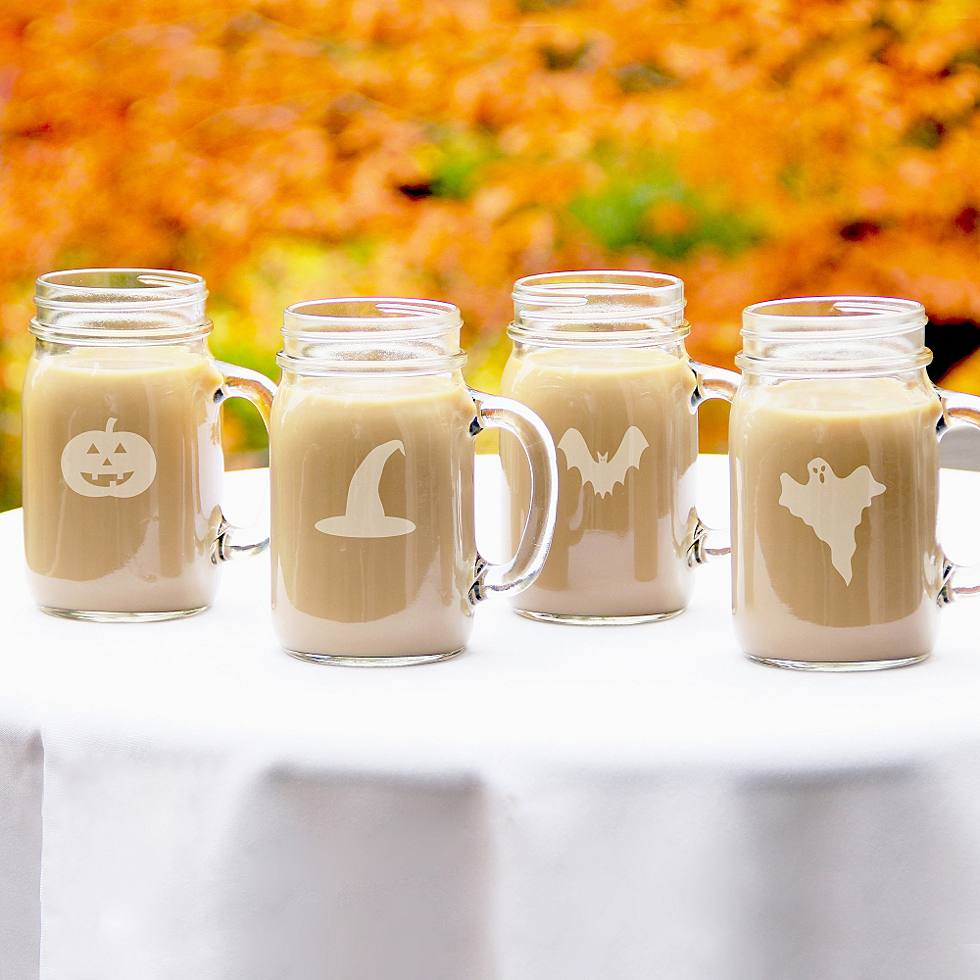 WITCHES BREW INGREDIENTS AND SUPPLIES
2 liters of ginger ale
1 liter of mango nectar (we used Jumex brand)
1 bottle of grenadine
1 long eyedropper
FOAM INGREDIENTS
1 cup of heavy whipping cream—keep it in the fridge until you're ready to whip
2 tablespoons of fine sugar
3 teaspoons of unflavored gelatin
PREP THE FOAM
Pour ½ cup cold whipping cream into a bowl. Sprinkle 3 teaspoons unflavored gelatin and 2 tablespoons sugar into whipping cream and let sit for 3 minutes.
Whisk vigorously until thick and soft peaks begin to form. Add last ½ cup of whipping cream and whisk until desired thickness of foam is achieved. Foam is now ready to spoon onto drinks.
CONCOCT THE WITCHES BREW
Fill sugar-rimmed glass 1/3 full with ginger ale.
Pour in a layer of mango nectar (should be about 1/5 of the glass).
Using a long eyedropper, squirt grenadine into the bottom of the glass.
Spoon on a thick layer of foam.
Place a broom swizzle stick in the drink.
Warning: Black sugar may discolor your mouth! Tell your guests and keep straws handy.