BOOM. You're showing you've got style, already, just by stopping by the blog and exploring something new…
Think patriotic decor is lots of colorful flags and bold bunting? Ab-so-lute-ly! There's no substitute for a classic (that's why they're called classics). But there's so much more to explore. Unexpected ways to dress up your home for Memorial Day, Fourth of July, and way beyond, while also celebrating your personal sense of style.
Let's take a scroll through five skyrocketing favorites and see how you can enjoy a little more design freedom, this season.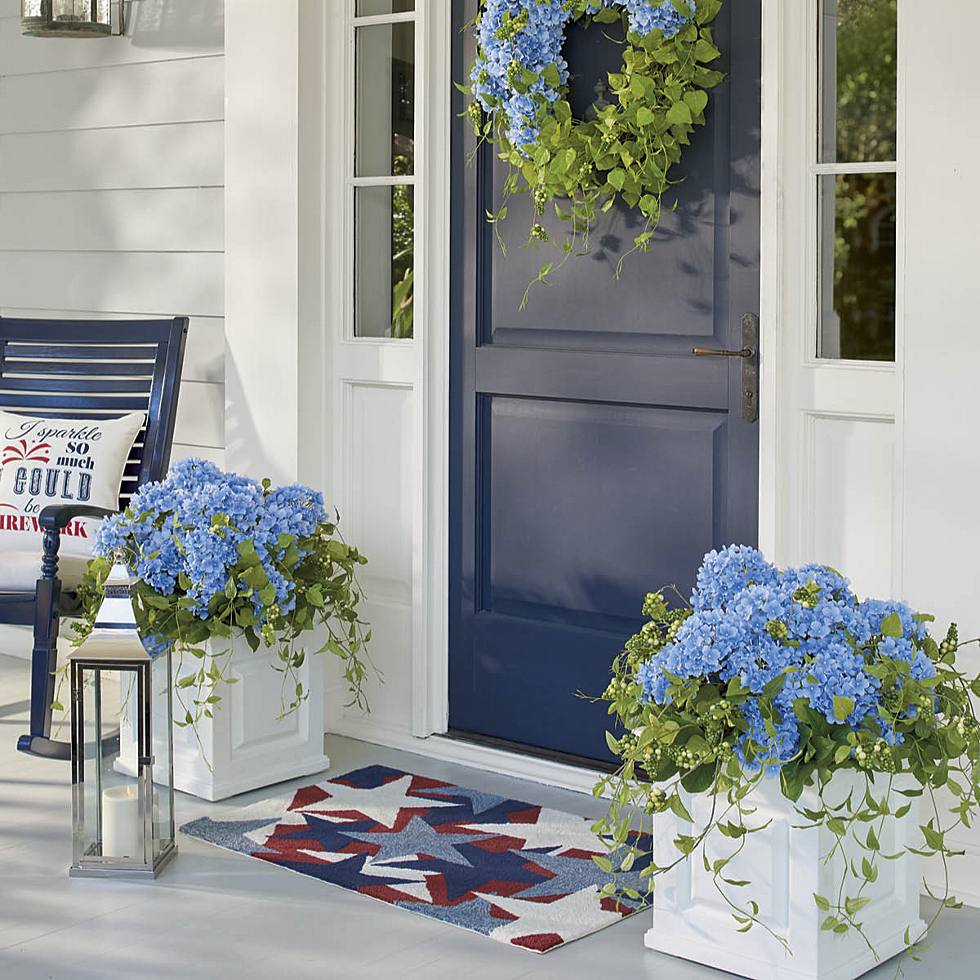 One: Floral Fireworks
Stunning proof that even soft, natural elements—with creative thought behind them—can look awesomely on-theme, too. The lighter blue of our Haley Hydrangea Greenery perfectly complements classic navy and the bursts of petals have us all excited for a mid-summer night's fireworks spectacular. It gets better: Haley's also great for spring decorating, and since it's crafted from incredibly lifelike faux materials, you can display it year after after. Welcome friends with a bang.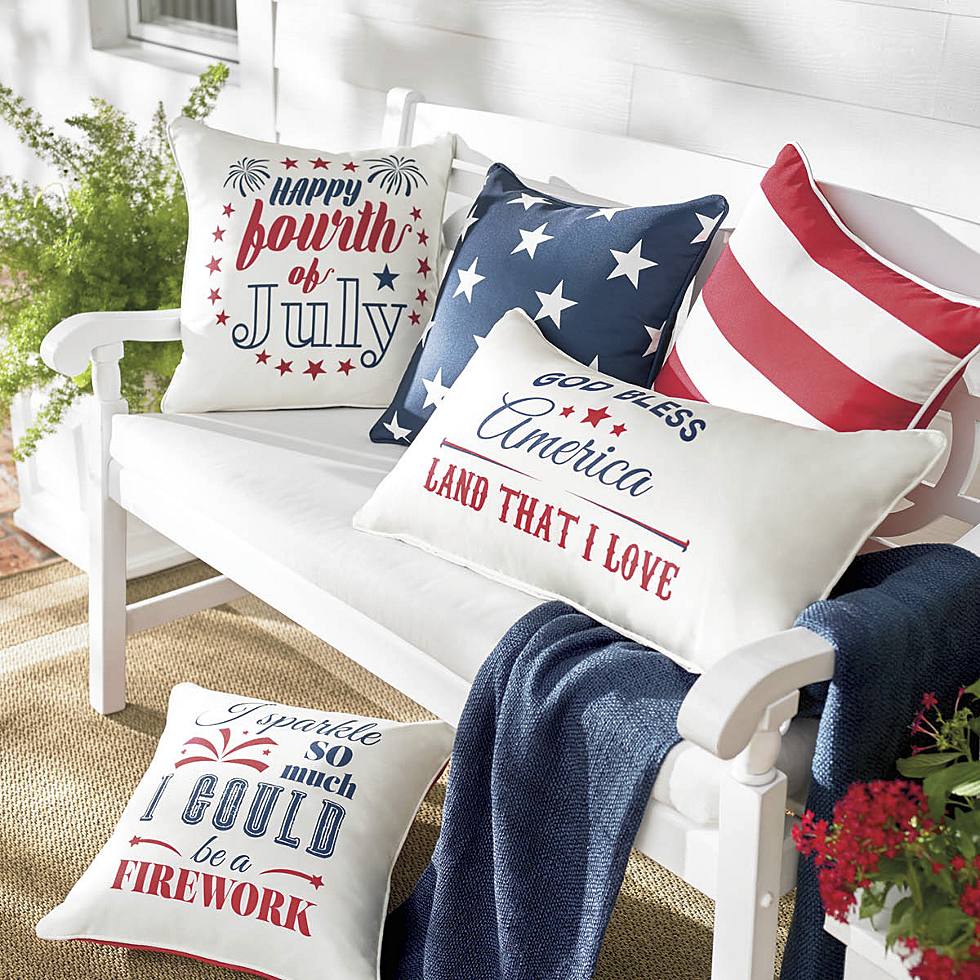 Two: Pillow Patriotism
What can we say… the colorful and graphic designs really say it all. OK, a few things: great wherever you want to make a fun, easy, and affordable impact. Fully reversible, with phrasing on one side and a complementing pattern on the other. Place them anywhere. We mean it. Our pillows are crafted from all-weather polyester that's soft enough for indoors, durable enough for out. The $49 price tag is something to celebrate, too.
Three: Seconds, Please
So, outdoor barbecues and hot dog roasts and corn on the cob and ice cream are a big part of your picnics all season long. And they're… on the messy side of all this great celebrating. You know we have that covered. Accent those loaded plates with our theme-friendly red and whit,e or blue and white, Gingham Napkins, and… yum-my.
Four: Old Faves, Fresh Eyes
You can really make it personal—for a song. Just look around your home for items that would make a great canvas for a fun, star-spangled upgrade. All you need to do: add some chic, inexpensive, red-white-and-blue flair to an object you already love. Think red star ribbon around a blue chair back. A vase of tiny parade flags on the counter. Red geraniums in a white planter. A red or blue festive bandanna on a fun lawn sculpture or a Peabody Faux Boxwood Garden Dog (if your own dog objects to being dressed up). Tap into your creative side. It's there—we know it is.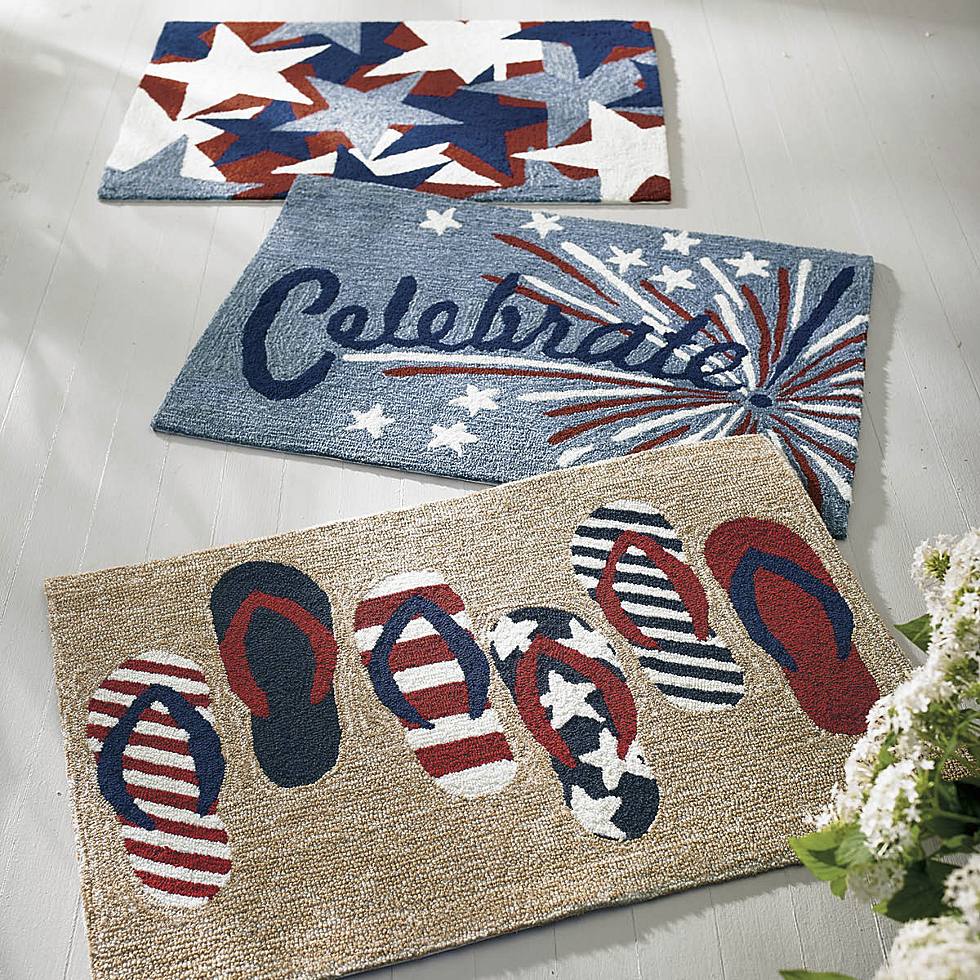 Five: Do Tread on Me
Star-bursting with color and American folk art charm, a door mat is sooo easy, but with an impact you would have to literally jump over to miss. Turn up the volume on your holiday welcome, keep your home cleaner all season long. Ours are highly durable—even enjoy the liberty of placing them outdoors. Prepare for a parade of compliments.
O Beautiful Patriotic Décor
Nothing surpasses the impact of our proud colors in their purest form. Classic flags, swags, and bunting form the foundation of every great patriotic design theme. Here's something special: all the flags, swags, and bunting you see here are proudly made in America by Annin Flagmakers, the oldest and largest flag manufacturer in the United States.
See? It's super fun and rewarding to show your stripes, while still feeling all the glory of speaking your style truth. Last tip: you don't need an official holiday to display your true colors. Anytime you're feeling particularly patriotic suits us just fine. It's a grand land, and showing it in your unique way never goes out of style.
Shop all Patriotic Decor.