It's the bright, sparkly backdrop to all of your most colorful Christmas memories. It will be at the heart of every joy-filled holiday gathering for years to come. The Christmas tree is the cherished symbol of the calendar's biggest celebration, and you want your new one to be perfect. Shop with our easy artificial Christmas tree guide and it will be!
Consider space first
Where you'll place your tree will help determine the key factors of height and diameter. Are you decorating a countertop or great room? Dining room corner or expansive living space? Grab a tape measure… rules of thumb include allowing 6 to 12 inches from the top of your artificial Christmas tree to the ceiling and a minimum of 24 inches at the perimeter, so you can move freely around it to decorate.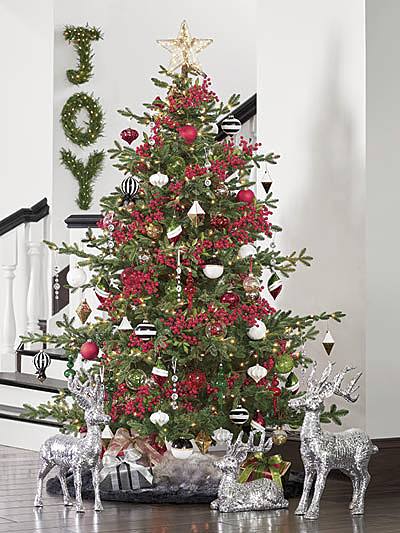 Stocking stuffer (tip): for smaller spaces where a standard-sized tree (6 to 12 feet tall) simply won't fit, consider tabletop Christmas trees or slim profile Christmas trees. Perfect for adding joy to entryways, bedrooms, nooks, and more.
What's your style?
The realism of modern artificial Christmas trees is ah-mazing. So, just choose the one with a tip shape and color that pleases you most. We're particularly attracted to firs and pines, but there are spruces, cedars, and more.
Branch structure is important. If you like to deck your tree, top to trunk, with lots of ribbon and ornaments, there are styles specially designed with deeper branch pockets to make it easier. On the flip side, full-profile trees look great with fewer or even no trimmings, if the holiday rush has limited your time.     
For an added touch of realism and whimsy, consider choosing a flocked tree. The look of freshly fallen snow on the branch tips works wonders at bringing the heartwarming essence of nature home for the holidays.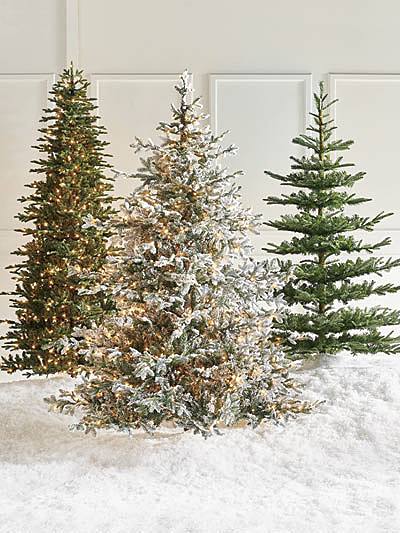 Pre-lit Christmas tree, self-lit, or un-lit?
It really comes down to personal preference. One of the great advantages of adding an artificial Christmas tree to your holiday décor is that many are offered professionally pre-lit with bright, long-lasting lights. Simply assemble the tree and plug it in. Sooo easy.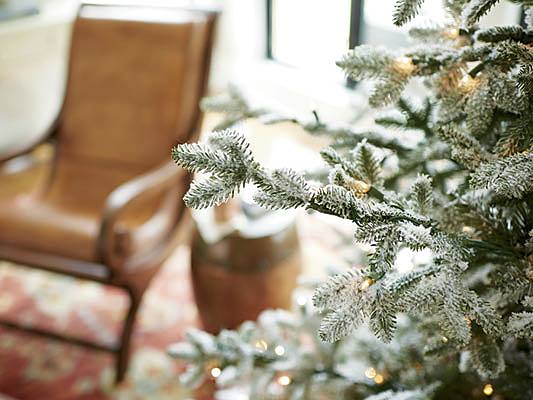 A little DIY during the holidays can be lots of fun, too. Think about selecting an un-lit Christmas tree and getting creative by lighting it yourself with vintage-style lights and cool retro ornaments from your local thrift shop or tag sale.
If you have a space where you think lights aren't necessary or could possibly be a distraction (bed or media room?), no worries. The only rule at Grandin Road is that you do what you love.
Let the decorating begin
Gather the family, because it's happiness and smiles all around. Christmas decorations that coordinate perfectly with your everyday décor, or an all-over red and green theme, are popular—and great—choices. But we're all about color and shaking things up. Celebrate your taste for on-trend style with Christmas ornament collections of amazing jewel tones. Or, blend multiple collections, mixing and matching colors, patterns, and textures for a designer twist.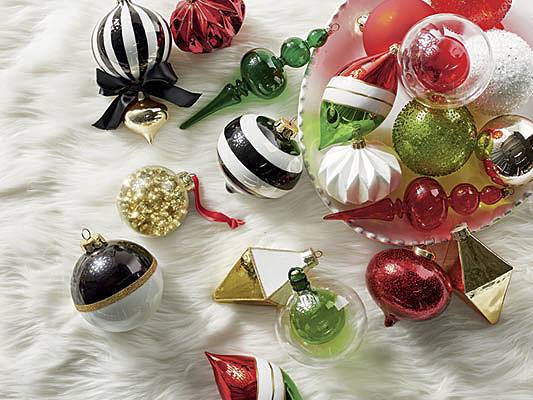 There's more to trimming the tree than just ornaments. too. Amplify the impact with ribbon (try hanging it vertically for something special), picks, branches, and blooms for extra dimension. Elves, fairies, and even owls bring things to life, and a chic luxury Christmas tree skirt anchors the overall look with flair.
---
That easy… so grab the eggnog, curl up in your comfy chair, and make spirits bright by strolling our not-too-big-and-not-too-small artificial Christmas Tree Market. Then, why not treet us to a first look at your merry masterpiece? Just snap a quick photo and share it on Instagram, with #grandinroad, for a chance to be featured.
Spread cheer. Learn How to decorate A Christmas Mantel: Unexpected & Bright.