With all the sunny-season fun to be had, you might feel like there's no time left for a much-needed refresh for your landscape. Well, there is when you shop Grandin Road. Take a quick peek at 6 Easy Lawn & Garden Decor Updates Only Found Here. Fast, unique designs that also just happen to be super affordable (starting at $69).
Browse, pick your favorite lawn and garden decor items, and we'll deliver them right to your door. So you still make the pool party on time!
1 | Faux Boxwood Flamingo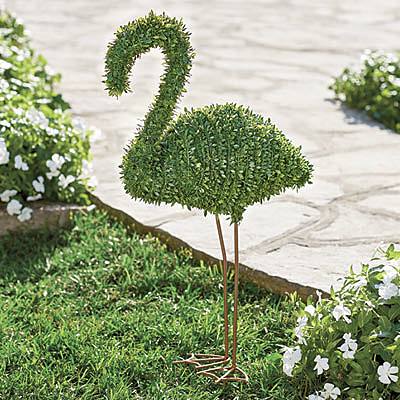 Standing a proud three feet tall to welcome guests, our Faux Boxwood Flamingo doesn't have to be bright pink and plastic to say you've got style and a sense of humor. Extra points for a flock of three or more elegantly hobnobbing on the lawn.
2 | Orb Garden Sculpture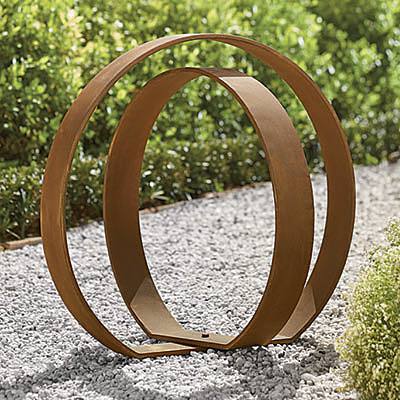 Join the long list of fans who love it for its size (over 30″ wide), simplicity, and pivoting inner orb you can move to match your every whim. Put an inspired finishing touch on your lawn & garden decor with a work of changeable art you'll only find here.
3 | Stretching Cat Garden Sculpture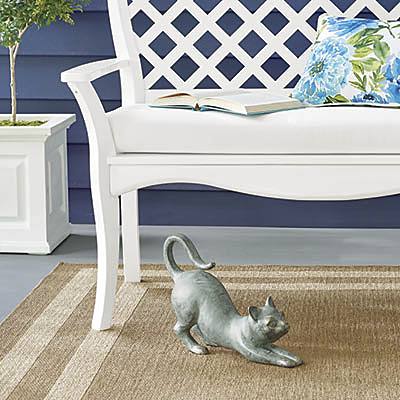 Relaxed, happy feelings are in store whenever you encounter this cool, perpetually laid-back cat. Purrfect for placing on the patio, or tucking into a flower bed as a lively surprise.
4 | Birdhouse Garden Stakes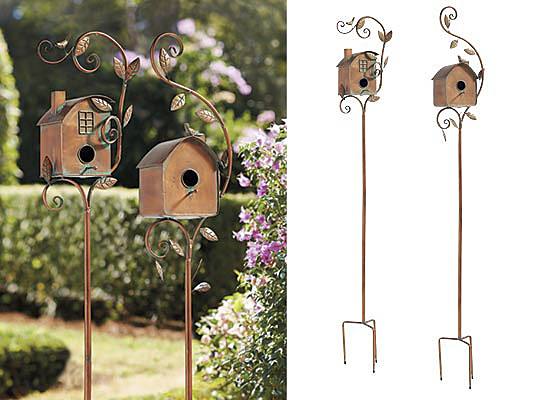 Bird lovers and gardeners alike chirp eagerly about our garden stakes' handcrafted charms. For planter, flower bed, or lawn, they also make a great gift for anyone that adores one-of-a-kind lawn & garden decor.
5 | Ellsworth Garden Art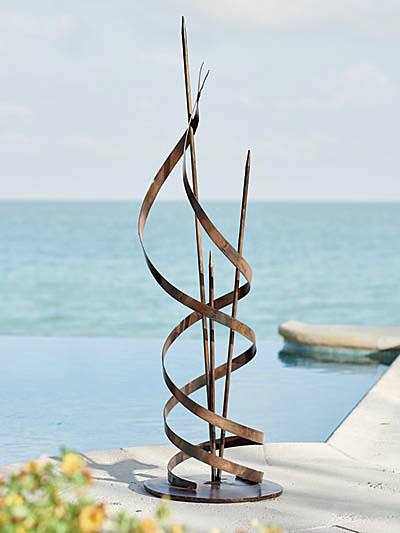 Place it anywhere indoors or out and, in virtually no time, the doors to your personal art gallery are open. 5 feet tall, and a masterpiece of affordability at only $149.
6 | Faux Boxwood Garden Dogs, from $69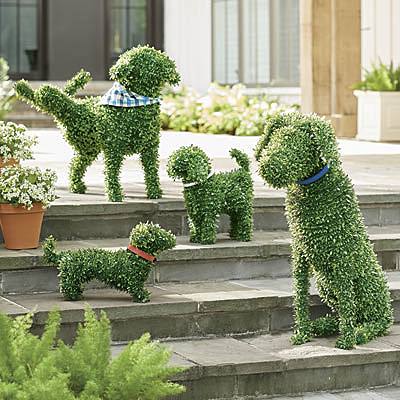 Fetching pooches with a magical story to tell.
Once upon a time there was a talented and curious product designer seeking inspiration for a fairy-tale decor collection. When to her great surprise, she came upon a wondrously enchanted garden filled with the most stunningly beautiful and fantastic creatures imaginable.
"The live sculpted hedge animals were so cool. I thought it would be a great idea to have one you could buy ready-made, with zero the effort and upkeep. I thought the leg positioning was cheeky, would capture her attention, and just make her smile!"
Rendering after rendering and model after model followed. When, with hopeful eyes and abounding anticipation, at last, the cutest canine ever—Peabody—was born. An entire family of equally handsome and joyful garden dogs soon followed. And all the Grandin Road customers lived happily ever after.
---
Exclusive Lawn & Garden Decor
Shop all of these exclusive lawn & garden decor finds, planters, urns, windowboxes, and more now.
Get more one-of-a-kind outdoor decorating ideas. Take a look at Top 10 Spring Door Mats You Won't Find in Stores.