Black (and white) magic. Watch and enter a wickedly charming world of stunning contrasts. Fun Halloween is a fraidy-cat's decorating masterpiece.
Opposites attract
More fiercely well designed than frightful, Fun Halloween celebrates your love of inspired decor while still maintaining the high-spirited aura you're dying for. Dramatic black and white dominate the scene, while [BOO] surprise pops of orange are a visual treat. A host of mannequins and hanging heads bring "life" to the party. There's a lingering mist… and a warm, flickering glow courtesy of lots and lots of candles.
Join us in the ghostly gallery for the social event of the season. We'll mingle and learn the easy tricks for bringing more fun to your haunted house this year.
1.  Brilliant disguise
Every party setting needs a focal point—it's simple to transform your table. Tall, center element decorated to thrill… surround with graphic, bold black and white Designer Pumpkins, florals, and a touch of glam. Candles bring it to light. Captivating.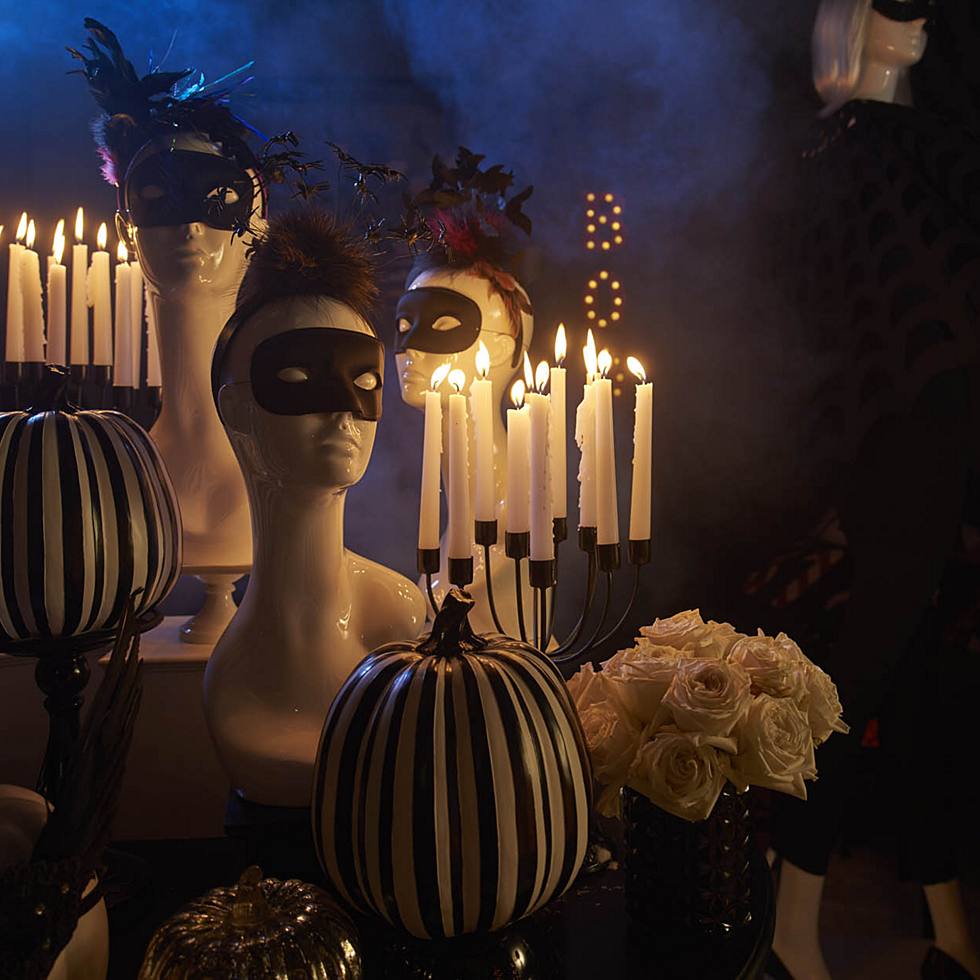 2.  Light magic
Here's where you stir up something on a totally different level. Have fun experimenting: play with shadows, depth, and color-tinted lights. Our Witch Silhouette & Fire and Ice Spotlight are a good place to start. Branch out.

3.  Planters take wing
The only thing they'll be screaming for is more. Creative process is black-and-white… spray-painted branches give it height, crow introduces mystery and a dynamic presence. Remember to employ décor elements below table level for balance—this is a great way to do it. And don't be afraid to display indoors or out (in a covered area).

4.  We'll spell it out
Remember those unexpected touches of orange we talked about…?

5.  Life of the party
When guests have an eye-to-eye encounter with a lifesize figure this frightfully fab, they can't help but be thrilled. No mannequin? No problem—dress yourself to chill, and really bring the celebration alive.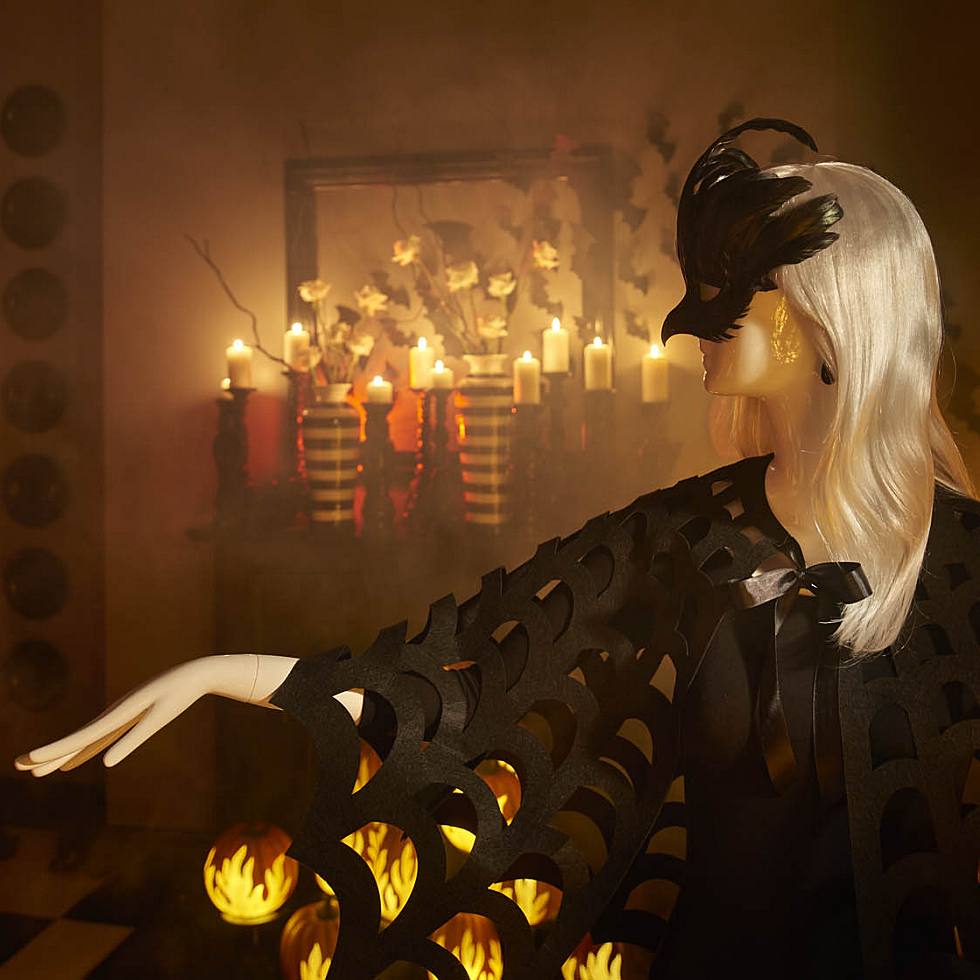 6.  Visual feast
Designer-inspired Black Raven Wreath runs rings around anything less wickedly impactful. Just hang it up, and the compliments flock in.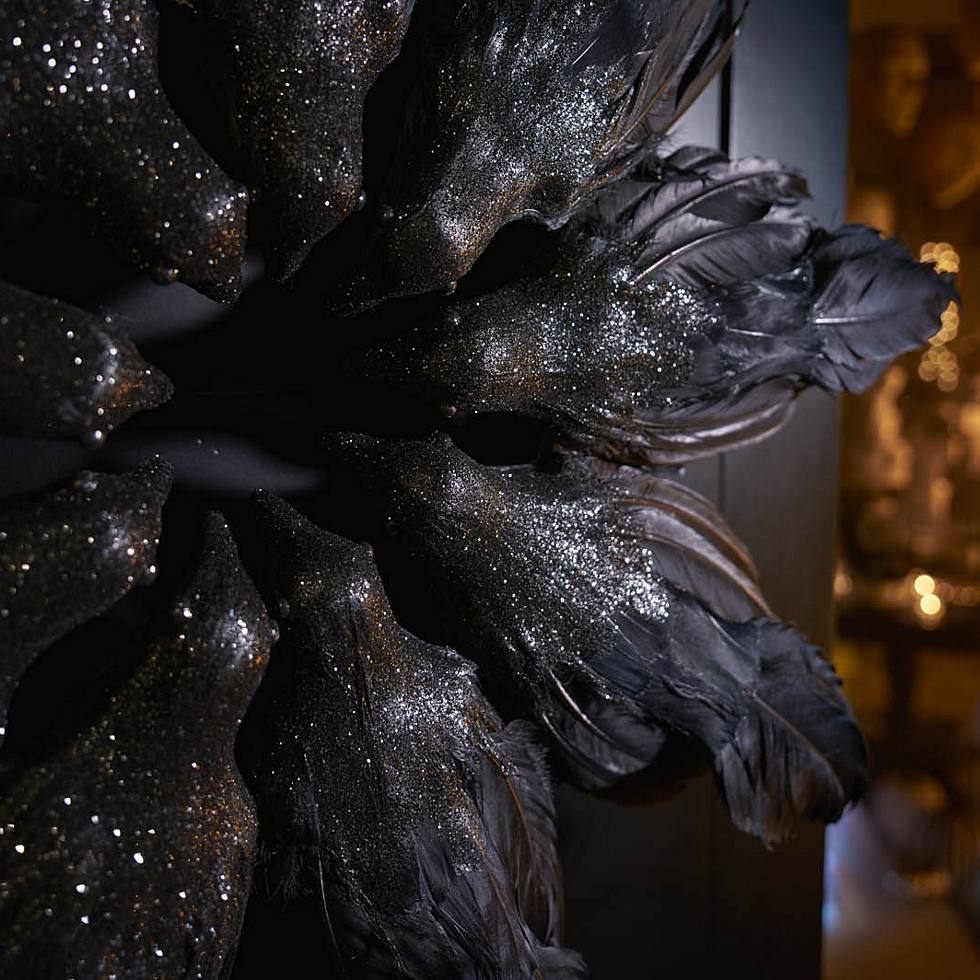 7.  Heads above
Nothing else will have party-goers' eyes fixed and mouths agape like a ghostly gathering of our "floating" White with Fright Trio. The more the scarier.
If you prefer to keep your scene on the lighter side, this Halloween, Fun is for you. And as our largest design theme, there's so much more to sink your teeth into. Click the link, below, and once you've conjured up your most entertaining Halloween yet, share it on social. Instagram and Facebook; tag #grandinroad.
Shop all Fun Halloween.