EXTRA PANACHE FOR YOUR PUMPKIN DAY DECORATIONS
Stripes. Jewels. Glitter. Webs. Halloween decorations are more glamorous than ever, with black, white, and metallic details that deliver delightfully devilish designs to your display. Get ready for a daring deluge of black-and-white Fright Night decor that's sure to add more cool to your season of the ghoul.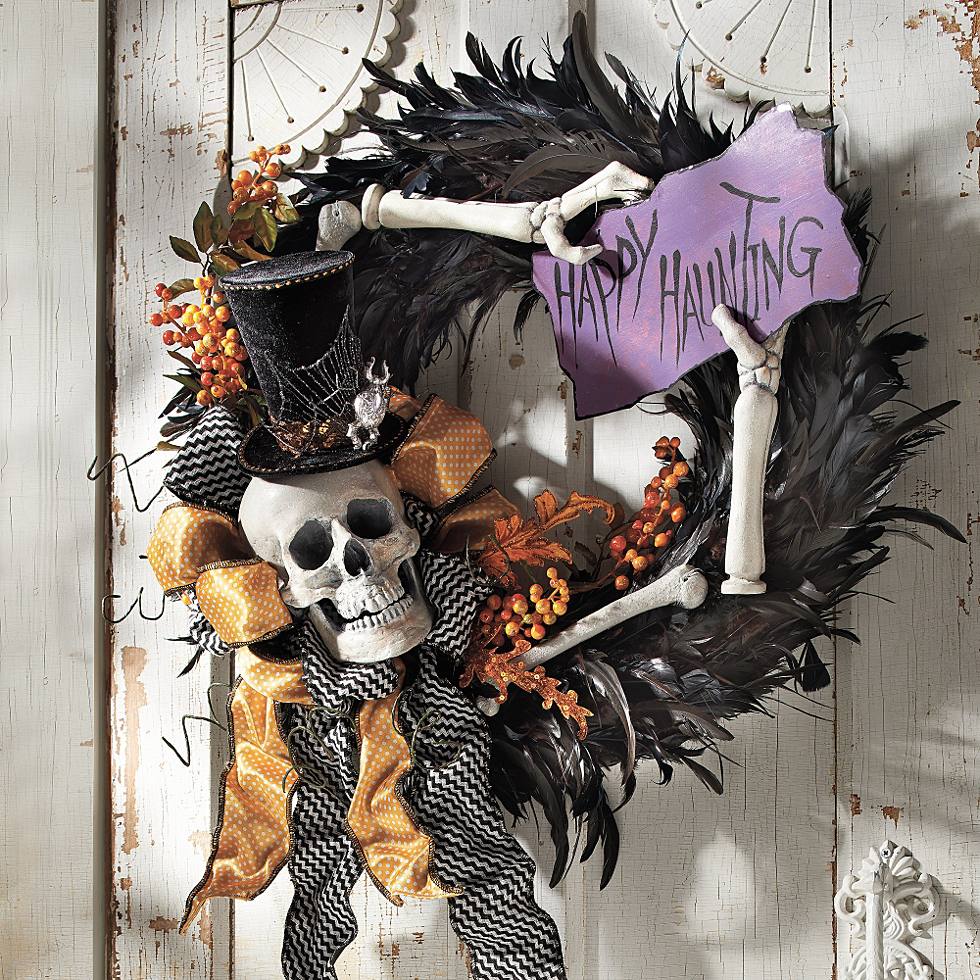 THRILLS AT THE THRESHOLD
A wreath is your home's signature, so extend an elegant and eerie welcome. Turn up the volume with a sensational laurel that's full of designer delights, like a mischievous skeleton, a bejeweled witch's hat, bewitching bones, brilliant bats or rustling strands that create chilling sound effects – all with a dark and mysterious twist.
Pump up the glam in your haunting harvest display with a crop of black and white pumpkins gathered at your door. Make your own magical mix of striped, harlequin, solid, and jeweled – and don't stop there! Leave a trail of fabulous faux fall fruits all the way through your home, from entryway to mantel to tabletop.
TRICK OUT THE TABLETOP
Serve up your most spectacular spread on a table that's both haute and haunting. Start with a great foundation, like a fantastic black or black-and-white tablecloth. Then trim the tabletop with a radical runner, or decorative topper.
After you've plotted the spots for your gruesome grub, it's time to add some spooktacular Halloween table decorations. Take your pumpkins to new heights, propped on glamorous, glossy black pedestals or stacks of black and white books. Fill apothecary jars with devilish treats. Drop in a few creepy hands and perhaps a "floating" candlestick or two. Spell out a spooky saying or reveal the mischievous menu on a tombstone-shaped chalkboard and stack up a set (or five) of Halloween-themed stoneware plates – then watch as the haunting hors d'oeuvres vanish.
THE MOST MYSTERIOUS MANTEL
Usher a startlingly colorful and whimsical theme to your fireplace when you dress up the mantel with a multi-hued mantel scarf, or light it up with a set of bold marquee letters. If you dig a darker look, drape black garland across the ledge and transform the display with the ominous glow of battery-operated micro lights.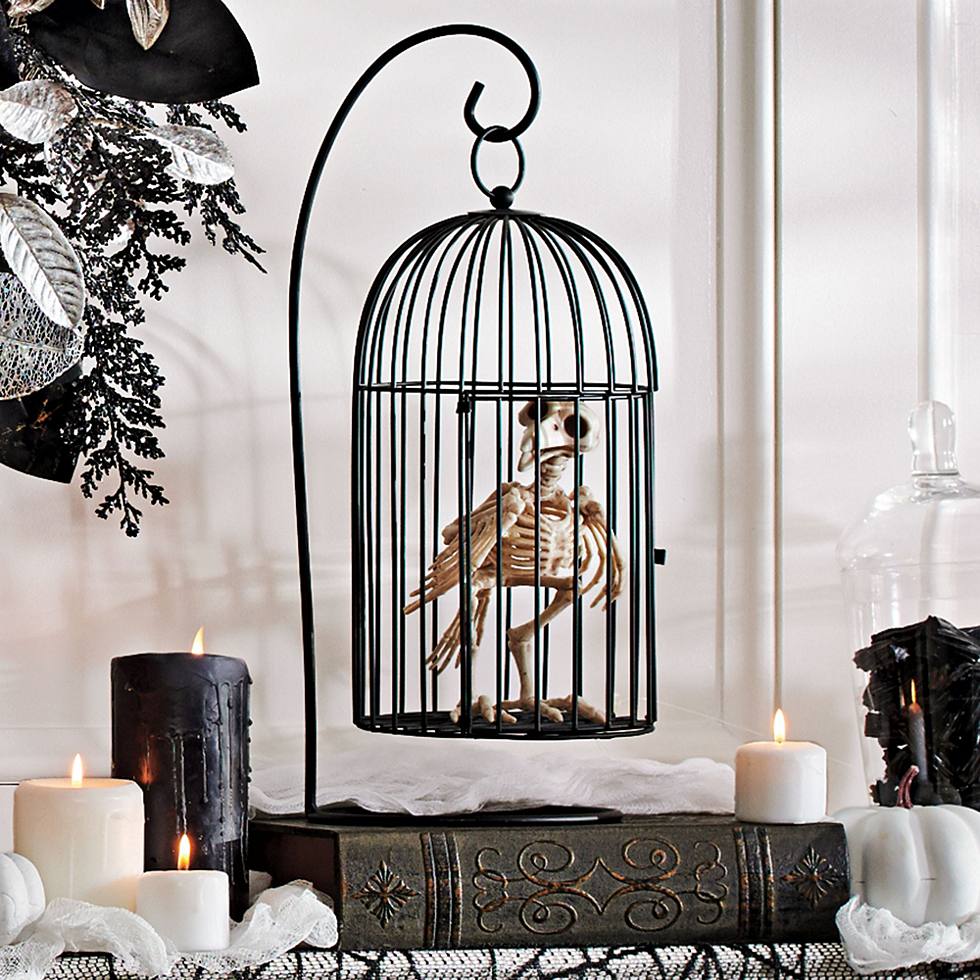 Create a sensational spectacle with a uniquely gothic touch. Add a wreath, a colony of felt bats, or black crows on the overmantel. Captivate your crowd with a skeleton crow in a cage and a couple of ceramic or beaded skulls. Place a cauldron or creepy urn filled with a pair of sexy witch legs, cluster a group of black-and-white pumpkins and invite a black skeleton cat to prowl around at the base of the hearth.
Gather a group of gothic or mystical candlesticks on the ledge or set them beside the hearth. Top them with Halloween-themed candles that give a truly cool glow, since they're battery-operated and lit with LED "flames" that flicker like real candles.
TIE IT ALL TOGETHER WITH SOME FABULOUS FINISHING TOUCHES
Complete your creepy look with some classic black, white, and metallic details. Gather a group of life-size skeleton props, including one in chrome, and mix in a pack of skeleton dogs. Drop clusters of faux spiders, knots of fake snakes, and murders of crows into all of your displays. Bubble up some trouble with a foggy cauldron or a fog machine – you're ready to let the ghoul times roll!