Our goal: making outdoor living totally irresistible. And we did it. Our new, colorful accents and lush, easy-care greenery can help you create the perfect haven, your way. Save during our Grand Garden Event, too.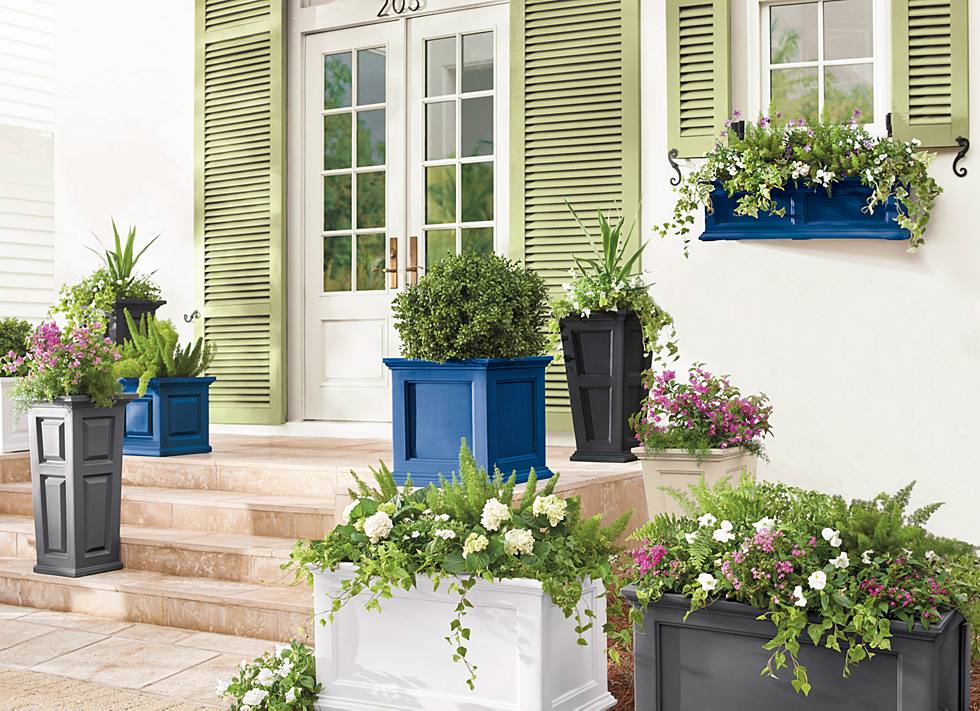 Some design experts consider garden and terrace designs to be similar to arranging art in a gallery or museum. You're creating a rhythm of colors and shapes, surprises and moments of unforgettable beauty. Our accent pieces can help you do this, in your unique way.
From our Grand Garden Event, we like:
Planters with style. Urns, planters, window boxes, and decorative pots add so much extra visual presence to your home's exterior beauty, front and back. Our unique colors and designs let you personalize your garden, porch, and patio style. Best of all, our planters are all easy-care and durable.

Some have the look of glossy painted ceramic, or aged stone, or painted wood – yet are a little lighter in weight, crafted of very durable composites, with weather-ready finishes. (A couple of fancier designs may fair best over a long period of time in covered areas like a roofed porch structure.)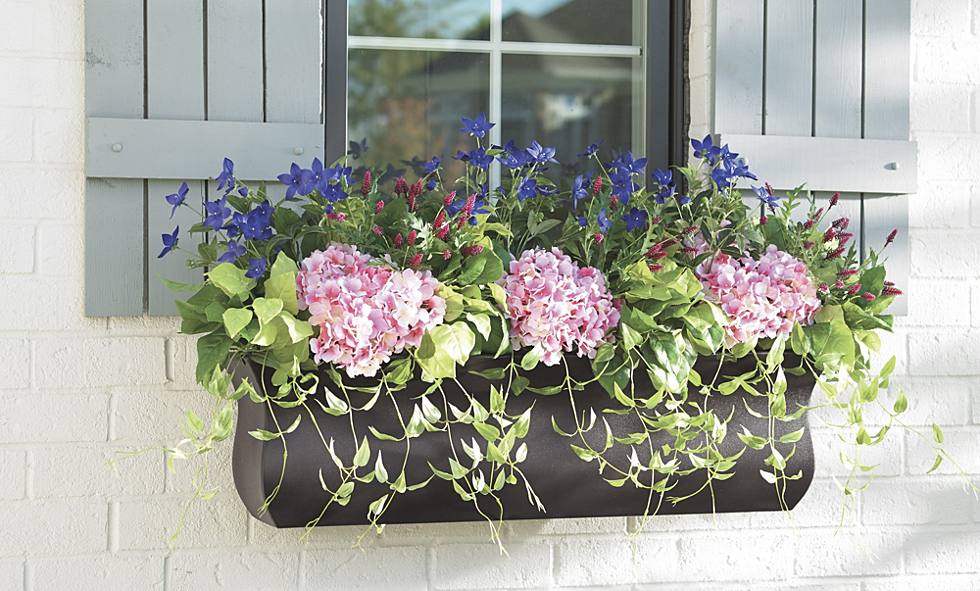 The lightweight designs make it easier to position them as you like – or even lift a window box to a desired spot. You don't have to load our classic square box planters or urns on casters or wheeled bases to move them.
Low-maintenance planters like our Nantucket Collection offer a water reservoir system built into the design, so less watering is needed. Perfect if you're busy, frequently out of town, or even a little forgetful when there's a lot on your plate (we've all been there).
Whether or not you have a green thumb, many of our planters are designed to make life a lot simpler. Our Brighton Collection Window Planter is a double-walled wonder (durable high-grade polyethylene that won't fade, crack, warp, or split). It features a very handy built-in, sub-irrigation water system that encourages root growth and helps maintain proper water levels.
Fresh solid colors, modern black-and-white and gold-and-white designs, stainless steel with a burnished copper finish, the appearance of aged stone… you'll find all the planter choices you want to make your garden world more beautiful at Grandin Road. Try them in sunrooms, great rooms, and entryways, too.
Our faux greenery. Offering a natural look and fresh color anywhere you want it, Grandin Road's faux plants and greenery accents are a great way to an add easy-care burst of nature anywhere. Faux greenery is infinitely more sophisticated today, and the higher-level pieces we choose are designed to emulate the coloring, texture, growth patterns, and density of real greenery.
With choices ranging from window box-filling faux greenery to urn fillers and wreaths replete with realistic-looking flowers, and incidental plantings and natural-looking trailers, we're really a "like real, but easier" resource. Whether you like styles from classic Boston ferns and lush leaves, or our handsomely sculpted Podocarpus shrub styles with their distinctively thick, luxurious dark green look, Grandin Road can be your faux greenery garden shop for the fresh, realistic styles you want this spring and summer and beyond.
Our door mats. Made of durable materials like natural coir, or sturdy manmade materials, our door mats are embracing fresh designs to work with new home design and remodels.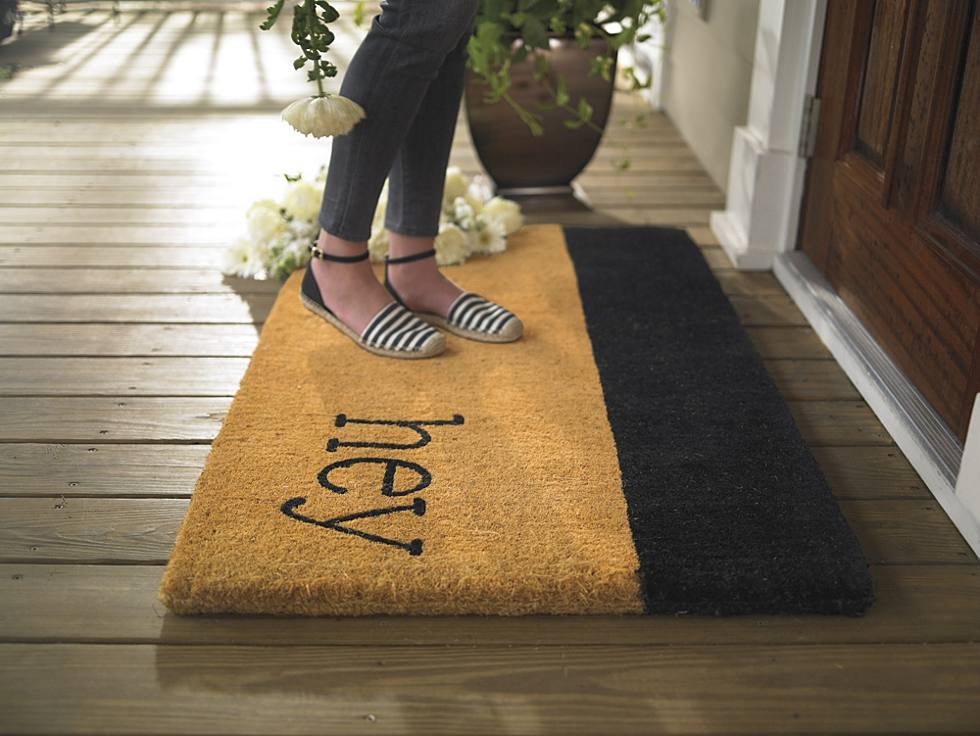 You'll find more colors, unique patterns, classic styles, and even mats that stand ready to greet your guests with a "Hello" or the wink of a "Hi" and "Bye" combo saying on one mat. Our Buzz Outdoor Mat with a bright summery bumblebee is as much fun as our many dog door mat styles featuring cute, colorful happy pooch and pup imagery. Some people prefer our pretty half-rounds, while other like the fuller coverage of a more classic rectangular mat.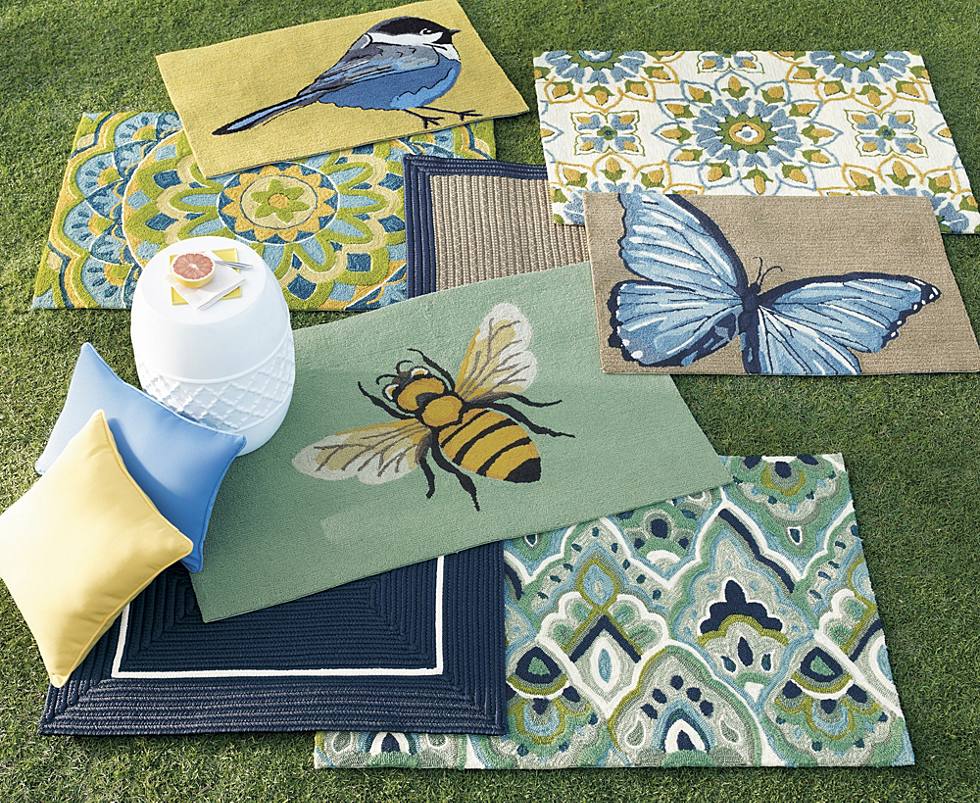 We're offering new colorful patterned mats that have the design energy usually confined to elegant outdoor area rugs, too.
Personalized door mats will forever be a homeowner favorite. Ours come in your choice of colorful, super-tough UV-resistant manmade yarns, or natural 100% coir, a material ready to trap dirt and debris with a thickly tufted surface. We even offer knotted coir styles (the Personalized Coir Knot Door Mat is one).
Have a little more fun with your welcome to your world, with a door mat that spreads some happiness into your home while keeping dirt and moisture from coming along for the ride.